Whiteheads
Along with papules, pustules and blackheads, whiteheads are among the most common types of acne. They are also one of the mildest forms of acne and are generally treatable with proper skincare habits and a topical whitehead treatment.
What Are Whiteheads?
Whiteheads (technical name: "comedones") are plugged hair follicles or pores. In whiteheads the pore is covered by a thin layer of skin that traps the plug beneath the surface. As the plug is not exposed to air it remains white or sometimes a yellowish color (the natural color of oil and dead skin cells), which is why it's called a "whitehead."
What Causes Whiteheads?
The causes of whiteheads are similar to the causes of other types of acne. Whenever the sebaceous glands begin overproducing oils, the extra oil may mix with dead skin cells. This causes the pore to clog and can be a potential cause for a whitehead or blackhead to form. Most often, the glands overproduce sebum due to changes in the body's hormone production. This can occur during pregnancy, menopause, menstruation and, of course, puberty.
How To Get Rid of Whiteheads
Although whiteheads can pop up overnight, there is no instantaneous cure. Even the most effective treatments take time to get rid of whiteheads, so consistent treatment is ideal and a noticeable change may not be seen until after several weeks or even a few months.
Here are some popular whitehead treatment tips:
In addition to Proactiv® Solution and the Proactiv+® 3-Step System, Proactiv makes a number of products designed specifically to treat and remove blackheads including:
Wash the face twice every day using a cleanser that contains acne-fighting ingredients. Pay special attention to the "T-Zone" (forehead, nose and chin) because this is where whiteheads most often appear.
Avoid scrubbing that can irritate the skin and make whiteheads worse.
Use a gentle exfoliating product on a regular basis to remove whiteheads.
Don't pick, squeeze or pop your whiteheads as it can irritate the skin, increase the risk of infection and cause potential scarring.
Benzoyl peroxide products are effective for getting rid of whiteheads because this ingredient kills the bacteria that cause acne (the P. acnes bacteria) and inhibit the production of oil. Products with salicylic acid are also good whitehead treatments because salicylic acid is a natural exfoliant that encourages dead skin cells to loosen and shed so they cannot combine with oil and plug the pores.
Proactiv® Products for Whiteheads
Because a regular and consistent skincare regimen is critical for treating whiteheads, the Proactiv® Solution and Proactiv+® 3-Step System are both excellent choices for an everyday skincare regimen. Both systems cleanse the pores, exfoliate dead skin cells and treat the causes of whiteheads. Other Proactiv products to consider as whitehead treatments include:
Proactiv Deep Cleansing Wash: Our Deep Cleansing Wash is a gentle all-over cleanser that's perfect for the body. Smooth exfoliating beads lift away dead skin cells, while our special formula containing 2% salicylic acid helps unclog pores and reduce oiliness to clear acne and help prevent future breakouts wherever they may occur.
Proactiv Cleansing Body Bar: This soap-free cleansing bar contains acne-fighting salicylic acid to help clear pores as well as treat and help prevent new acne blemishes on the face and body.
Proactiv Clear Zone Body Pads: Developed for face and body, our Clear Zone Body Pads help keep pores clear of dirt, oil, sweat, and acne-causing bacteria. The dual-textured pads contain the skin enhancing properties of glycolic acid for a smoother, softer, more even skin tone. Use throughout the day to help control oil!
Proactiv Mark Correcting Pads: All it takes is a few quick swipes of our Mark Correcting Pads to help give your skin a more even, youthful, brighter-looking complexion! Each convenient, single-use pad helps remove dead skin cells and exfoliate away rough, dull layers, revealing the new, smoother skin below. Our pads are designed to resurface the skin with exfoliating glycolic acid, helping to fade the look of post acne dark marks and reduce the appearance of fine lines, wrinkles and enlarged pores.
Proactiv Advanced Daily Oil Control: Formulated for acne-prone skin, Advanced Daily Oil Control helps reduce surface shine and clears breakouts. The lightweight formula absorbs quickly and helps the skin to stay soft, smooth and hydrated without looking or feeling greasy. It's also oil-free, non-comedogenic, paraben-free, dermatologist-tested.
Proactiv Emergency Blemish Relief: Our invisible spot treatment is for unexpected blemishes and contains a powerful double dose of microcrystal benzoyl peroxide to target acne-causing bacteria inside pores to clear up acne blemishes.
Proactiv Pore Cleansing Brush: Take cleansing to the next level with our Pore Cleansing Brush. Designed with a sleek, ergonomic shape and angled head for easy contour handling, this deep cleansing device helps remove dirt, makeup, and other pore-clogging impurities. With 360-degree rotation and super soft charcoal-infused bristles, this dual-speed cleansing brush ensures pore level cleaning that will leave you with noticeably smoother, healthier-looking skin.
Whiteheads: The Bottom Line
Whiteheads are an almost inevitable fact of life. The main difference between a whitehead and a blackhead is that in a whitehead a thin layer of skin covers the tip of the clogged pore so the plug inside is not exposed to air that would turn it black. Whiteheads can be treated with a skincare regimen that includes products formulated with benzoyl peroxide and salicylic acid.

Try Proactiv Solution® — for oily and combination skin — featuring prescription-grade benzoyl peroxide to help kill acne-causing bacteria at its source.

choose this routine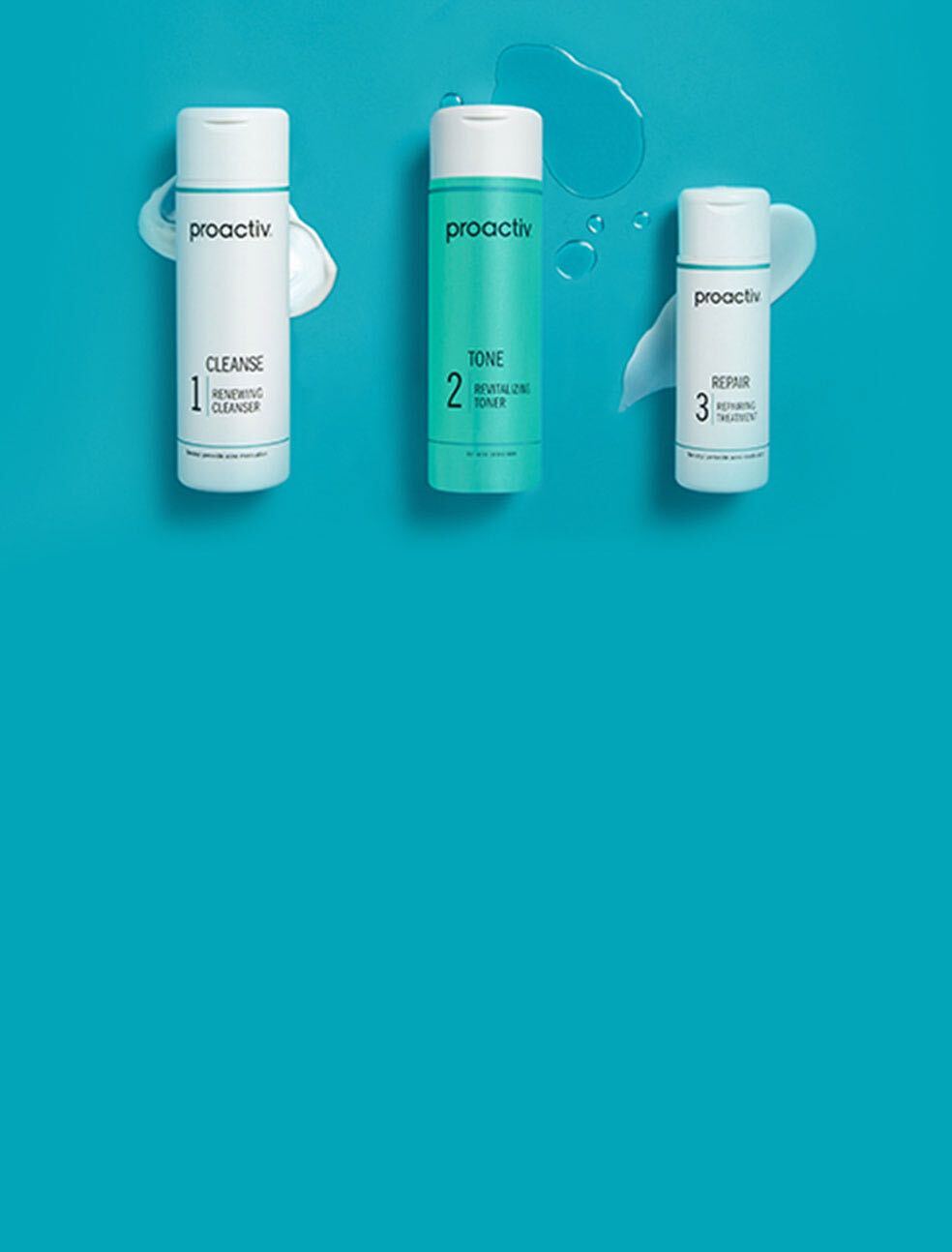 Try Proactiv Solution® — for oily and combination skin — featuring prescription-grade benzoyl peroxide to help kill acne-causing bacteria at its source.

choose this routine